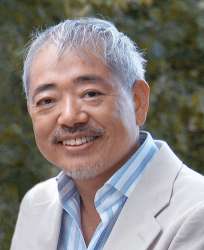 About Ken and his Technique
Ken Lucas Kobayashi, Master Healer, maintains a thriving practice in New York City. His healing knowledge derives, in part, from his family heritage. The Kobayashi family has been well-known healers in Japan for over three hundred and fifty years. Since young, Ken gained much of his experience from "hands on" practice in his family's clinic. Dr. Kobayashi is not a medical doctor, but a doctor in Philosophy. He is neither an accupuncturist nor an herbalist, but he is a holistic healing minister and practitioner. He has been healing people for over fifty years. Ken not only heals, but also teaches healing. He has distilled his many years of experience into the Kobayashi Technique. The Kobayashi technique is made up of 7 elements:

Shintsu Riki the healing power of nature

Organic Yakuzen a special wellness diet

Herbal Tea Preparation custom made for the individual

Do-In Koh Exercise for rejuvenation and self improvement

Shiatsu Massage and Needle ancient Asian healing therapy

Feng Shui Koh the art of placement

The Way of Life Path including the Kabbalah technique for peace, health, and happiness

Ken believes that everyone has healing power, but usually it's untapped and undeveloped. His goal is to help clients regulate imbalances by teaching them to be more aware of their body's natural rhythm and needs. This prevents the development of illness, and enables people to grow old gracefully. Ken respects modern Western Medicine, all religions and philosophies; however, he places his faith in preventive medicine and the natural way of life. Clients are encouraged to maintain a balance in harmony by interacting with nature.

Take a few days off to visit New York and Master Healer Ken! Ken L. Kobayashi takes pride in making his knowledge and skills available to you.